Hotel Booking System - More Information
The hotel booking system is an offline (front-end / In-house) and online (Internet facing) booking solution used for day-to-day hotel management. Functionality includes room reservations booking, production of hotel management reports and customer invoicing requirements.
You can choose whether you want to use the In-house booking software on it's own or also integrate with our online booking system.
Key features include:
In-house booking system managed on a single computer or over a local area network (LAN) or via a virtual private network (VPN).
Allow your customers to make commission-free online bookings from your own website.
Online bookings automatically download into the In-house booking system. No manual re-entering of data is required.
Manage and maintain your own database of customer records In-house.
Support services including software training, system setup and upgrades.
The reservations software is Windows based, so installs on one or more of your computers and can be used by your reception staff, back office and bar staff.
Online Booking System and processing payments with PayPal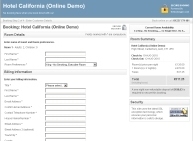 If you require online booking functionality as well as the front-end reservations software then the following information will be useful.
In order to take payments online, you need a merchant account. We use PayPal because it is the simplest and most trusted payment provider.
PayPal Website Payments Pro costs £20 a month, with a 3.4% fee for each transaction processed.
Every payment taken through our booking system is paid directly in to your PayPal account, minus their transaction fees. PayPal's monthly fee is taken from the credit/debit card you register with PayPal. If you change your card or have a new one issued, remember to change your details with PayPal. PayPal do not charge for you to access your funds. Simply transfer funds into your business bank account at your convenience.
Finding Your PayPal API Credentials
Your API credentials are provided by PayPal and allow us to communicate with their systems seamlessly. They are necessary for taking online payments through PayPal.
Log into your PayPal account and click on 'Profile'.
Click 'Request API Credentials' under the Account Information sub-heading.
Click 'Set up PayPal API credentials and permissions' from the box titled, 'Option 1 - PayPal API'.
Click 'View API Signature' from the box titled, 'Option 2 - Request API credentials to create your own API username and password'.
Finally, copy and paste the API Username, API Password and Signature into the respective fields in your online booking account.
Why Choose Us?
With your choice of reservations software out on the market you want to choose a company that's well established, that gets great feedback from customers and offers true value for money.
Our company offers hotel booking software that has been tried and tested over many years. We listen to our customers and implement features that they need in order to stay competitive in this industry. Our hotel software has one set price. We do not charge different prices for our reservations software just because a hotel may have more rooms to offer than another hotel.
Quick Links: