Software For Hotels - About Hotel Systems
Hotel Systems specialise in the development of booking software for hotels, for small to medium sized businesses. The products and services we provide include:
Hotel Booking System - Windows based application installed on your computer to manage your hotels room availability via online and offline channels.
Online Booking System - We provide this as a service to allow your customers to check availability and book online.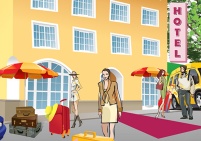 The hotel booking system has been developed, tried and tested over many years. Today we are in a position to offer an excellent, affordable online and offline booking software solution.
A lot of our development has been directed by our clients. We have found that clients want an easy and non-complicated piece of software that will meet their needs.
Delivery Schedule
Normally all you need to do is to download the evaluation copy of Hotel Systems - hotel booking system. This will allow you to use the hotel booking system for 30 days. We will then email you details on how to obtain an activation code after we have received payment from you.
If you require the hotel booking system on CD, we will post this to you for delivery via normal postal mail. A small fee will be required for this.
Guarantee
If you find a bug in our software, anytime up to 90 days after purchase, we will fix the bug and issue you with an updated revision, without any charge and as soon as possible.
In the event of a legal dispute, we would always elect to fix the problem, rather than issue a refund, and any dispute can only be made under England's laws.
Returns Policy
You are welcome to fully evaluate Hotel Systems - hotel booking system for 30 days, before you would need to purchase a licence.
As our product is computer software and can be copied, we are unable to issue refunds after we have issued instructions on how to generate the activation code. Software is exempt from UK distance selling rules.
Cancellation Policy
Hotel Systems reserves the right to cancel a purchase at any time and to fully refund the purchase cost. This may be necessary if a customer has purchased the wrong combination of products or services.