Online Booking System - PayPal & SagePay Gateways
The online booking system works in combination with our in-house hotel booking system, providing synchronised offline (front-end / In-house) and online (Internet facing) booking sources.
Allow your customers to check room availability and make online bookings from your website. Options include: direct link or booking widget.
Try the direct link to our online booking demo.
Online Booking System - Features include:
No commission to pay on bookings made with Hotel Systems booking system.
Let customers check room availability and pay with a credit/debit card.
Quickly check room availability using this clever little booking widget. This widget can be embedded on any of your web pages to quickly provide room availability.
Hotel Systems booking system involves no programming skills. We host the booking engine and can provide assistance with the linking from your website.
Secure online bookings using the latest SSL (Secure Socket Layer) technology.
Hotel Systems online and offline booking systems stay in synchronisation with each other using integrated booking synchronisation procedures.
Online booking payments are processed using PayPal payment servers.
Read more for information on system setup and available options.
The diagram below illustrates the way in which the online booking system and the in-house hotel booking system synchronises it's booking records.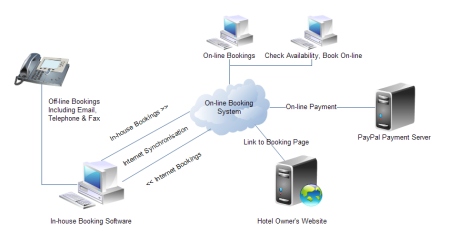 View the larger version of the above diagram if you would like to see the hotel system integration in greater detail.